506 Grandview Avenue
Muscatine, Iowa 52761
563.264.8911
In 1968, a small taco stand opened in Cheyenne, Wyoming. The "Taco House" was an instant success with the locals because of the unique seasonings in its tasty tacos and generously sized burritos. In 1969, the franchise rights were purchased by two local businessmen, Harold Holmes and James Woodson, who renamed the chain Taco John's®. Holmes and Woodson began selling franchises right away, but unlike other fast food chains, their focus was not on large urban areas. The first three franchised restaurants were opened in Scottsbluff, Nebraska, Torrington, Wyoming, and Rapid City, South Dakota. Many of the restaurants that followed were also located in the small rural communities other food chains disregarded. The then-unique concept of Mexican fast food first brought in the curious and adventurous customer. However, over time they came back for Taco John's® great food, fast service and fair prices.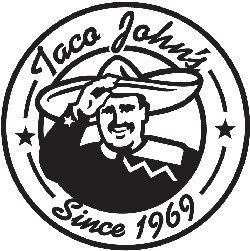 Today we operate and franchise more than 425 quick-service restaurants in 25 states, making Taco John's® among the largest Mexican restaurant brands in America. Our units are located in "Taco John's® Country," which is primarily the central and north central section of the United States – focusing on the "Heartland of America."
Despite all of the progress and innovation, the basics that made Taco John's® a success over the years have not changed. Generous portions of great-tasting food served quickly and pleasantly, for a fair price; that's what Taco John's® is still about.